BlockChain Basics Everyone Can Understand
Episode 739 | 10.25.23
BlockChain Basics Everyone Can Understand
Today, as part of Jim's continuing series, profiling authors appearing at the Miami Book Fair, Jim, interviews Herald, Hughes, author of :
"A kids book about Blockchain"
You've heard Jim talking about his Blockchain powered portal to finance real estate deals.
Jim and Herald will discuss the basic building blocks of that technology.
If you want to understand blockchain from the ground up, this is your show.
*************************************
About Our Guest: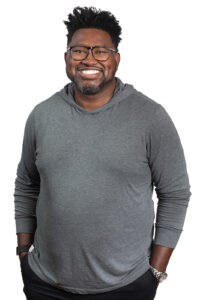 Harold Hughes
Harold Hughes is the founder & CEO of Bandwagon, a South Carolina-based experience technology company. Under his leadership, Bandwagon has raised more than $3M in venture capital and successfully acquired IdealSeat, Inc. in 2020. Harold has had his ideas validated as a graduate of the Founder Institute Accelerator (and now serves as Director for their Austin chapter), one of the inaugural companies in Google for Startups Black Founders Exchange Program, and most recently, the inaugural cohort of the IBM Blockchain Accelerator in 2019.
A man of Alpha Phi Alpha Fraternity, Inc., Harold is actively involved in his community, participating on the Board of Directors for BEAM, a non-profit that focuses on the advancement of women entrepreneurs as they grow their companies as well as a founding team member of Amass, an end-to-end wealth building platform for Black Americans. To that end, Harold is also an active angel investor, investing in women, people of color, and Black founder-led companies. Most notably, he has invested in Partake Foods, the Jay-Z-backed CPG company making allergy-friendly snacks, as well as companies like Goodr, Chipper, Journey Foods, Republic, and Stix.
Harold Hughes is a graduate of Clemson University, where he received Bachelor's degrees in both Economics (B.A.) and Political Science (B.A.). As a "Triple Tiger", he also completed his MBA at Clemson before pursuing a graduate certificate in Innovation & Entrepreneurship at Stanford University.